Born in Edinburg 'Tejas", raised in the grape-fields of California, educated as a Mechanical Engineer and Artist in CSU- Sacramento, 'transplanted' to Arizona where an MFA in Studio Art was earned. I have always known that I was going to be an Artist though ignorant of the role of an Artist in society, until I took college level art courses.  While earning a Mechanical Engineering degree, I realized my niche was to develop Art that conceptually uses both sides of the brain.  Having earned a teaching certificate, I've taught full time and as an Artist in Residence for more then 20 years.  I have a fingerprint clearance card, and an exhibition record from Houston to Seattle, to San Diego while earning some local and national awards.
Artist Statement: 
My typical 'MO' is to give new life to old materials. Most if not all of my work starts with a general concept or idea, typically without an image. The image evolves as the idea develops. I usually write down the idea and sketch components of the idea that will help. As the sketches become more united and complete, I start identifying the materials needed to develop an Art object. I run some simplified experiments especially if movement is a part of the Art object. The experiments and found objects help enrich the Art, and the development. As the assembly of objects come together, I recognize some opportunities to develop some deeper meaning so I tweak the combination of objects until it fully flourishes. The making of Art is my profession. I take it very seriously. I try to engage the novice as well as the person that practices the language of Art, and of course all in between. In doing so, the work first presents some 'eye candy' for the person who spends two minutes, or less, looking. If a person invests a few more minutes, they will make discoveries about what the Art is trying to communicate. Especially if they ask themselves questions about the art-piece while they notice details that were not apparent at first. If the viewer has a conversation with the artwork, they could have a rich Art experience.
I spend hours, days, weeks and months trying to create many levels of communication so that the consumer does not go away unrewarded for the time invested. Some of those levels are personal to the Artist, so most everyone, unless they knew me well, would not grasp it, such as the maturity level as an Artist, or some technical sociological or political development. The kinetic component also adds a level or two to the depth of the composition. Above all it must feel good at a gut level.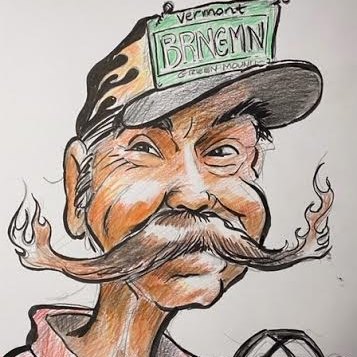 Drawing of Burning Man: Jose A Benavides by Peter X O'Brien